SKIN TYPE SERIES: DRY SKIN
Having dry skin makes people frustrated. Your skin looks dull all the time, makeup may look cakey on you and your skin even feels itchy sometimes.
There are multiple reasons for dry skin, understanding them may help you treat the condition and improve your skin.
Too much skin exposure to the sun, wind or cosmetics 
Excessive face washing with harsh soaps 
Poor diet, dehydration 
Insufficient use of moisturisers 
Having dry skin would leave your skin tight and it ages far more quickly, which is likely to give you premature wrinkles, spots etc.
Here are some tips on how to care dry skin properly:
The basic step is to keep yourself hydrated: DRINK MORE WATER! 
Wash your face no more than two times a day and use a creamier face wash that provides moisture to your skin. You would want to prevent your skin from having that squeaky clean feel. A product like the Johnson's Nourishing Cream Wash would be perfect as it cleanses your skin gently and it also has cleansing beads in it to deep clean your pores as well. 
Use a rich moisturiser, preferably a cream rather than a lotion. One of the products that my sister personally loves is the YES to carrots Rich Moisture Day Cream and Repairing Night Cream.

The texture of the cream is moisturising and thick but it doesn't feel heavy. This product also has vitamins in it which benefits your skin.
Use sun screen to protect your skin from harmful UV rays. Although this is important for any skin type, it particularly worsens dry skin. Some people find sun screen very sticky and has some weird smell to it. However, the Neutrogena Ultra Sheer Sun Screen is very lightweight on your skin and smells really nice since it has fruit ingredients in it.

If you follow these steps and find the right products that could help you, you will no longer suffer from cracking dry skin and have radiant youthful skin in no time!
TEENBEAUTY SERIES: Oily skin part 2
Teenage is the most difficult time, both mentally and physically.
All these changes together, can be seen on the skin, in the form of pimples, acne, oily skin etc. Teenagers, cannot handle the pressure of bearing a single mark on their skin and I've been there before-not a good feeling if you want to impress you crush.
So, here is are some teenage skin care avoidance, to keep in mind for your youthful beauty

How to avoid oily skin-
1. Wash your face twice a day to remove excess oil so it does not clog your pores.
2. Choose a gentle face soap that cleans your face well without drying out your skin. Do not use a moisturizing soap that adds oils or moisturizes to your face
3. Use warm water when wash your face. Hot water may dry out or irritate your face
4. Stay away from harsh soaps or facial cleaners designed to dry out your skin. The purpose of washing the face is to physically remove oil and dead skin cells from your face and pores.
5. Watch if your diet corresponds to an increase of oily skin problems.

6. Avoid oily, greasy foods and heated fats which aggravate oily skin conditions. Replace unhealthy fats in your diet with healthy fats found in good like nuts, seeds, avocado and lean poultry and other meats.
7. Eat natural foods and fresh fruits and vegetables as much as possible. Some vegetables known to be especially good for the skin include cucumbers, tomatoes and green leafy vegetables. DRINK lots of water and avoidproducts with alcohol to reduce the oiliness of the skin
8. Don't touch! You will notice that you touch your skin several times a day- try and avoid that. This only increases the skin contact with germs. Hands are always exposed to bacteria's and touching your face continuously will lead to more bacterial reactions.
I've posted up a "DIY on Oily Skin" if you would like to try out yourself how to improve on the oily skin!
SKINTYPE SERIES: Combination Skin Part 2
If you followed my last post, I said I would recommend a product perfect for combination skin. So here it is!It is the Neutrogena Moisturiser for Combination Skin. I've gone through so many tubes of this and it really works! I use this in the morning before I apply makeup and at night before I sleep, the moisturiser mattifies oily/shiny areas and gives luminosity to dry/dull areas. It is a dream product for combination skin (which is hard to find) and acts as a perfect base for makeup. The only downside for this product is that it doesn't have SPF in it to protect your skin from UV rays which is kind of a pain but you could always layer sunscreen.
Besides using the right moisturiser, it is also important to give a lot of love and care to your skin. Here are some tips and tricks you might want to know:
1. ALWAYS USE A TONER
A toner is very important for your skin, probably even more important than your moisturiser. For best results, focus on toning your T zone and any oily areas, this works for oily skin types as well. A toner helps control oils "swelling" up on your face and it also leaves your skin softer.
2. KEEP MOISTURISING OILY AREAS TO MINIMUM
You want to apply less moisturiser on oily areas and more on drier patches, LESS NOT NONE. Do not neglect the importance of giving oily areas a little something to absorb because if the skin doesn't get the nutrients it needs, it will secrete more oils to balance itself which will make your skin end up even oiler, no one would want that right?
3. USE THE RIGHT MAKEUP
If you tend to wear full face makeup (foundation, concealer, powder etc.), make sure to choose products designed for combination skin or you could mix products for dry and oily skin separately, but that would be a pain. Using the right makeup is important because you wouldn't want it to smudge and melt throughout the day. Not too related with skin care but I figured I would recommend a foundation to you since it does work for combination skin. REVLON ColorStay Foundation for Combination/Oily skin. This baby works so well, stays on your face all day and doesn't go anywhere. 
4.NEVER SLEEP WITH YOUR MAKEUP ON!
I know, we are sometimes too tired (lazy) to remove makeup on a late night. I do that sometimes ( a lot of times) but it is BIG mistake, BIG mistake. It clogs up your pores and damages your skin. Imagine suffocating yourself all night which is suicide, well, you are basically killing your skin! Maintaining the health of your skin is the most basic and important step to skin care, if you fail at doing that, the products you use doesn't really matter anymore. This is true for whatever skin type you may have!
By taking care of the individual needs of your skin, radiant and healthy looking skin will just be a few steps away :)
Face Scrub for Oily Skin Types
If you feel like you have oily skin and want to help maintain healthy and breathable skin?
HERES an easy and fast way to help with your oily skin! 
Ingredients:
1 tsp. powdered skim milk
1 tsp. honey
few drops of apple vinegar
Tools:
Medium sized bowl
gloves
Spoon
Instructions:
1.    Pour the powdered skim milk, honey an;d drops of apple vinegar into the medium bowl.
2.    Use the spoon to gently mix the scrub till it is all combined.
3.    Using your fingertips, dab the scrub on the desired areas.
4.    Rub the mixture gently into your skin for 2-3 mins
5.    Rinse the excess off your face with warm water and gently dry with a soft moist towel
Face Wash for All Skin Types
                                               Oat Meal Face wash/exfoliating scrub
Ingredients:
½ cup of Dried oatmeal
1 tsp. olive oil
2 tbs. water


Instructions
Pour the oatmeal, olive oil and water into the medium bowl. 

 

Use the spoon to gently mix the scrub till it is all com

Using your fingertips, pat the oatmeal mix into your face. Make sure you don't miss any areas.

Rub the mixture gently into your skin for 2-3 mins

Rinse the excess off your face with warm water and gently dry with a soft moist towel
Benefits of using oatmeal
•    Opens up the skin pores and flushes out dirt.
•    All skin types may use this to obtain its benefits.
•    It can be used to treat mild skin irritations.
•    Obtain smooth skin.
•    Half dried oatmeal can be used as a scrub to exfoliate skin.
                            Want to buy an oatmeal face scrub instead?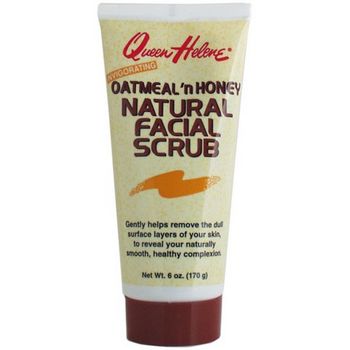 The exfoliating action of the Oatmeal draws out impurities, unclogs pores and removes dry, dead cells from the surface of your skin. Pure, wholesome Honey helps replenish lost moisture and protects your skin from the harsh elements.
Original Formula!
Gently Removes the Dull Surface Layers to Reveal your Healthy Complexion